Real education aiming your children to the pinnacle of success!
At SIMA Institute we expect that the children entering Middle School have taken the most of the teachings received in Elementary School such as reading, writing and mathematical reasoning, as well as having a respectful and healthy coexistence behavior. The Institute intends to receive them from the age of 12, considering the important development of their first 11 years, in which the accomplishment of household rules and parental care lead them to good study habits and adequate behavior for good school performance.
Mom and Dad pass on their values through their care and household rules. Actions such as talking to the adolescents, letting them explore the world, answering their questions and giving them responsibilities at their level, help the adolescents build their character. It is very important to set limits and appropriate behaviors in order to shape their behavior and make them capable of socializing with other teenagers and adults.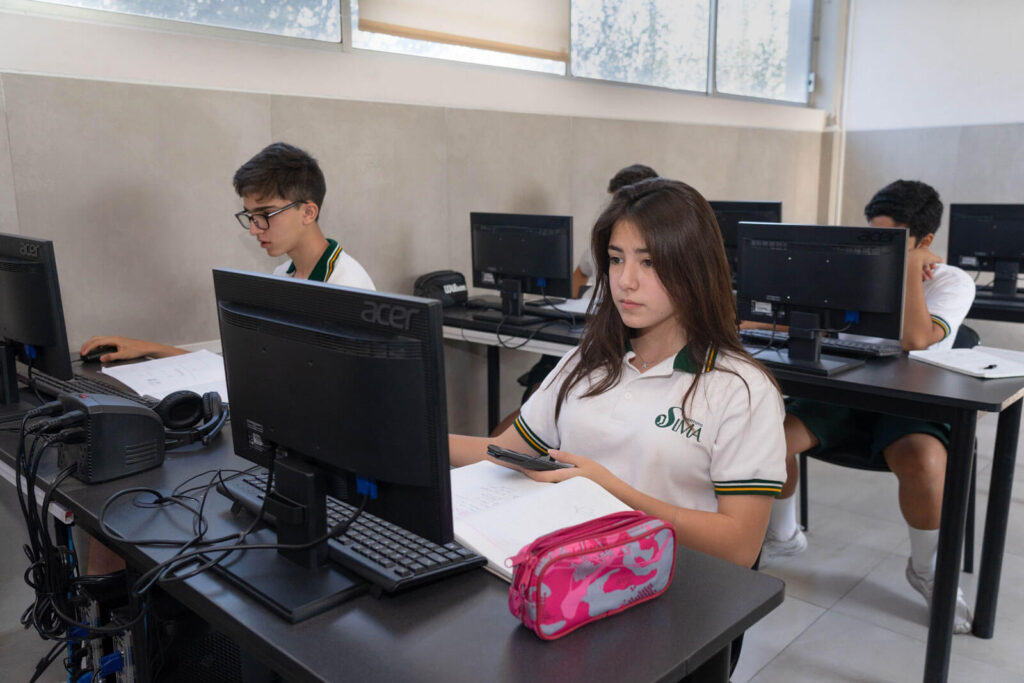 Middle School is a place where students get to broaden their knowledge and sharpen their reading and writing skills both in English and Spanish. Likewise, they learn to develop mathematical reasoning to a greater degree. These skills will provide them with a solid mental foundation and the ability to appropriately use the various tools and technologies that emerge today and in the future.
It is still time to educate their brain, motor skills and senses. Working as a team, we will fill the children with meaningful experiences especially focused on forming their thinking skills, autonomy and socialization now in this search of identity.
It is very counterproductive to give them tools and technologies that make things easier for them as we limit their mental potential. Non-digital manual games, household chores and responsibilities still play an important role in the development of their motor and mental skills. This stage is when more direction is needed, there may be opposition or rebellion; actions such as having obligations, schedules and limits, will be of great help to guide them in their maturity process. At first it seems complicated, but with effort and patience the adolescent will achieve a behavior of respect and obedience that will help them excel in academic activities including high school and college.
Thank you for your interest in our SIMA Institute.
If you have any questions, we will be happy to see you on campus! Visit our contact page or call us so we can provide you with the information you need.